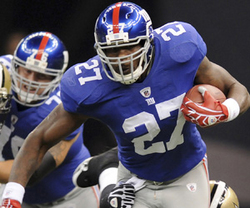 Brandon Jacobs took his share of criticism this year for a slow start, but his running backs coach Jerald Ingram believes it was a coaching problem.
When Danny Ware was hurt in the preseason, Jacobs had to take on many of Derrick Ward's old plays on passing downs. The New York Daily News writes that Jacobs was forced to run more slow developing plays like draws and sweeps that didn't fit his hammering style.
"I don't think he was tip-toeing as much as he was trying to be
patient," Ingram said. "He was trying to make sure everything was
perfect."
The team doesn't trust Ahmad Bradshaw enough to block in most of those situations, so they used Jacobs before realizing they were not playing to his strengths.
After some adjusting, Jacobs has averaged 5.1 yards per carry over the last four weeks. And it sounds like Ware will be a significant part of the offense moving forward. (Yep, that's a fantasy football alert. Especially for Bradshaw owners.)
The Giants have lost four straight games, but a return to their strong three-headed running attack of 2008 would go a long way. Big Blue's next two opponents — Atlanta and Denver — have also been struggling, especially against the run.
Expect to see a lot of Brandon Jacobs, running straight ahead.