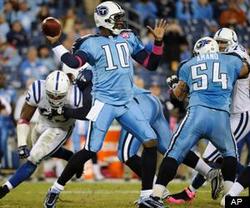 Maybe the guy with the Uncle Rico throwing motion really can throw the ball over them mountains.
Two years ago, during or after a Monday night game between the Titans and the Saints, we argued that Tennessee should take the training wheels off Young, allowing him to use an arm that can launch rockets with the flick of a wrist to stretch the field.
Tonight, in his hometown of Houston, Young got the green light.
Late in the first quarter, he threw a beautiful pass, in seemingly effortless fashion.  Though receiver Nate Washington let the ball glance off his hands, the point had been made — Young has a ton of potential.  The challenge for him and the coaching staff will be to tap into it, and then to maximize it.
Young shook off the drop and continued to march the team toward the end zone, capping the drive with a 14-yard touchdown pass to rookie Kenny Britt on third and three.
The game between old Houston and new Houston is currently tied at seven.