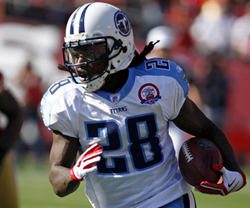 This figures to be a busy week with meaningful NFL stories breaking around the clock with lasting impact felt in the league.   This is not one of those stories.
ESPN's Adam Schefter reports that representatives of Usain Bolt and Titans running back Chris Johnson have been working together in recent days to set up race for charity to determine the world's fastest human being.
The competition is not as one-sided as you'd think.  Our buddies at NBC Olympics broke down Bolt's world record 100 meter time from Beijing games, and Bolt's 40 yard split was actually a hair slower than Johnson's 40 time at the NFL Scouting Combine.
Then again, Bolt is well known as a slow starter. He would destroy Johnson at any distance longer than 50 meters or so. 
Johnson knows this, and wants the race at 60 meters or less. Bolt would like it longer.