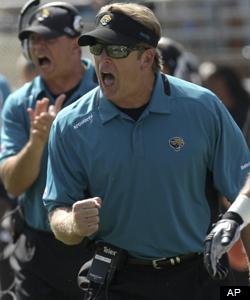 We reported recently that Jaguars coach Jack Del Rio essentially will be interviewing for his job when he meets this week with owner Wayne Weaver.
Jay Glazer of FOX seems to suggest that Del Rio could be in hot water regardless of the outcome of the coming sit-down with the boss.
Per Glazer, a "couple of people" in the building have been "killing" Del Rio, and there's "a lot of smoke" coming out of team headquarters.
Del Rio has coached the Jaguars since 2003.  Under his leadership, the team has qualified for only two playoff berths.  His lone postseason win came two seasons ago at Pittsburgh.
The Jags have now gone two years without getting to the tournament.  Amid ongoing struggles to fill the home stadium, Weaver might be ready to make a change — especially in light of rumors of conflict among Del Rio and members of his coaching staff.
So stay tuned.  Del Rio could be chopping wood in a different forest next season.