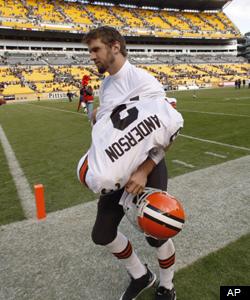 Alright, we know.
The headline above is the type that inspires loving comments like: "Duh" and "Breaking: Water is wet" and "Mark McGwire did steroids." (My favorite, guaranteed on any post, no matter what it is: "Who cares?")
We know that the Browns need a quarterback, and it's obvious from Mike Holmgren and Tom Heckert's comments that they know it too.
"You can have the greatest running game in the world and play good
defense, but if you only throw six balls a game you are not going to
win," Holmgren said in amazement over Cleveland's late-season run. "We've got to look at that."
Heckert also stressed that he was from a pass-first system in Philadelphia and you need to throw in the NFL to win. The men made it clear they are in the quarterback market.
Derek Anderson is due $9.45 million in 2010, including a $2 million bonus in March. He's not getting that money. Brady Quinn is coming off a foot injury and Holmgren gave him a "lukewarm" review for last season. Eric Mangini's faith in Quinn was shaky, so his return as head coach may not help Quinn's chances of being the starter.
Considering Heckert's history with the Eagles, Philadelphia represents an obvious place to target a quarterback.
With Anderson likely on the way out of town, the Browns really need two signal callers: A veteran to compete with Quinn and a young player to develop.