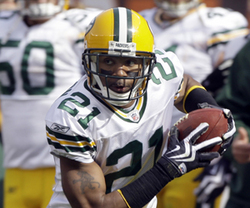 Pro Bowl appearances are nice, but the All Pro team is where it's at.
The list only includes the best of the best.  There will always be picks to argue about, but there seems to be fewer mistakes based on reputation.  (In other words, this is a Faneca-free zone.)
This year's team was announced Thursday, with Chris Johnson being the only player to make the first team unanimously.  Patrick Willis was close behind with 49 of 50 votes, while Darrelle Revis, Charles Woodson, and Shane Lechler got 48 votes.
So here it is.
OFFENSE
 
Quarterback: Peyton Manning, Indianapolis.
 
Running Backs: Chris Johnson, Tennessee; Adrian Peterson, Minnesota.
Fullback: Leonard Weaver, Philadelphia.
Tight End: Dallas Clark, Indianapolis.
Wide Receivers: Andre Johnson, Houston; Wes Welker, New England.
Tackles: Ryan Clady, Denver; Joe Thomas, Cleveland.
Guards: Steve Hutchinson, Minnesota; Jahri Evans, New Orleans.
Center: Nick Mangold, New York Jets.
Placekicker: Nate Kaeding, San Diego.
Kick Returner: Joshua Cribbs, Cleveland.
Notes: It's the first time Welker has made the first team.  It's surprising to see him make it over Larry Fitzgerald.  Manning, Peterson, Johnson, and Hutchinson repeated as first-teamers.  Clady may have been better as a rookie than this year, but there were no obvious picks at tackle.
DEFENSE
 
Ends: Jared Allen, Minnesota; Dwight Freeney, Indianapolis.
Tackles: Jay Ratliff, Dallas; Kevin Williams, Minnesota.
Outside Linebackers: Elvis Dumervil, Denver; DeMarcus Ware, Dallas.
Inside Linebacker: Patrick Willis, San Francisco; Ray Lewis, Baltimore.
Cornerbacks: Charles Woodson, Green Bay; Darrelle Revis, New York Jets.
Safeties: Darren Sharper, New Orleans; Adrian Wilson, Arizona.
Punter: Shane Lechler, Oakland.
Notes: The safeties benefited from injuries to Troy Polamalu; this was Wilson's first honor. Lewis made the list for the seventh time. The Vikings led with four All Pro nods; the Colts had three. 
For space reasons, the All Pro second team is after the jump. (Editor's note: Also, every time a link is clicked, an angel gets his wings.)

SECOND TEAM
 
OFFENSE
Quarterback: Drew Brees, New Orleans.
Running Backs: Ray Rice, Baltimore; Steven Jackson, St. Louis.
Fullback: Le'Ron McClain, Baltimore.
Tight End: Antonio Gates, San Diego.
Wide Receivers: Reggie Wayne, Indianapolis; Larry Fitzgerald, Arizona.
Tackles: Michael Roos, Tennessee; Jake Long, Miami.
Guards: Logan Mankins, New England; Kris Dielman, San Diego.
Center: Andre Gurode, Dallas.
Placekicker: David Akers, Philadelphia.
Kick Returner: DeSean Jackson, Philadelphia.
Notes: Roos didn't make the Pro Bowl team, but deserved to make this list. Philip Rivers had a great MVP case, yet couldn't make All Pro second team in a stacked year.  Vincent Jackson got snubbed too, but who would you take off the team?
DEFENSE
Ends: Trent Cole, Philadelphia; Julius Peppers, Carolina.
Tackles: Darnell Dockett, Arizona; Haloti Ngata, Baltimore.
Outside Linebackers: Brian Cushing, Houston; LaMarr Woodley, Pittsburgh.
Inside Linebackers: David Harris, New York Jets; Jon Beason, Carolina.
Cornerbacks: Nnamdi Asomugha, Oakland; Asante Samuel, Philadelphia, and Leon Hall, Cincinnati (tie).
Safeties: Brian Dawkins, Denver; Ed Reed, Baltimore, and Nick Collins, Green Bay (tie).
Punter: Andy Lee, San Francisco, and Donnie Jones, St. Louis (tie).
Notes: The Bengals secondary got represented here; Champ Bailey wasn't.  We think Robert Mathis would have been a good pick. Cushing is the only rookie on either list.  Beason and Harris both made the team, but not the Pro Bowl.  Beason was a great choice despite his late injury.