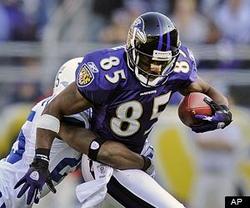 Putting percentages on your possible retirement is the thing to do in Baltimore these days.
"I think I'm going to tell you when Ed Reed tells you all," Derrick Mason said Monday.  "Ed Reed is
50-50 right now. So, I'm more like 60-40. Nothing's definite but death
and taxes. We'll see how it goes the next couple of weeks."
Mason's comments came during an odd media session  that started with Mason saying he was "done" and then admitting he was conflicted.
Mason has topped 1,000 yards for three straight seasons, leading Baltimore each time.  He's headed for unrestricted free agency, while Mark Clayton and Demetrius Williams will be restricted free agents if there is no new collective bargaining agreement.
Translation: The Ravens need a lot of of new receivers.