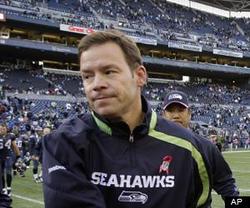 Jim Mora Jr. hasn't worked with Michael Vick since 2006, but he's still propping up Vick like he's Mora's QB1.  Speaking on WGR 550 in Buffalo Thursday, Mora defended Vick on a variety of levels.
"I've always said this about Mike," Mora said.  "Our kids are our greatest treasure.  I'd allow Vick to babysit my kids."
Mora said that should let you know how he feels about Vick the person, and he has no qualms with Vick the football player either.  Buffalo is being mentioned as a potential landing spot for Vick, and Mora endorsed the move. He even says Vick's reputation as a slacker in Atlanta was overblown.
"Michael was positive influence in locker room. A good worker . . .  Mike was always the last guy to leave every day.  He watched as much film as anybody.  All that stuff was a bunch of media talk," Mora said.
Huh? Vick admitted that he didn't take his job seriously enough in Atlanta.  In his 60 Minutes interview, Vick said he's heard the accusations that he was the last to arrive to the building and the first to leave.  And that they were all true.
So why is Mora still covering for Vick four years later?
It's possible Mora has a "Jimmy Sunshine" switch he can't turn off; he's eternally optimistic about his players to the media. A conspiracy theorist might suggest Mora is interested in the defensive coordinator job in Buffalo.  (Okay, it was Florio who suggested it over IM.)
The hosts asked Mora about the open position, and he didn't answer the question directly.  He just said Chan Gailey is a very good coach and Bills fans should give him a chance. 
We've heard that take somewhere before.