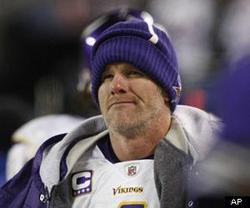 When he finally made it to the podium after last night's 31-28 heartbreaker to the Saints, Vikings quarterback Brett Favre declared that, even if he never plays another game, he's walking off into the sunset as a champion.
And he seemed to be asking the media to validate his position on the matter.
"Of course, I can't print anything for you guys," he said, "but I know I'm going out on top, one way or the other."
But if Favre thinks he's truly "going out on top," he's the only one.
The last three years of Favre's career have been characterized ultimately by failure. In 2007, he threw an interception in his last play as a Packer. In 2008, an arm injury derailed a once-promising season with the Jets. Now, in the final act as his first (and possibly only) year as a member of the Vikings, Favre coughed up another pick.
We believe he has continued to play because he wants to stroll away from the cameras with a Lombardi Trophy wedged into the back pocket of his Wranglers, as the credits slowly roll.
Such an exit would indeed constitute "going out on top."
Last night's outcome isn't the top. It's the bottom. It's as low as it gets, for a player, a team, a franchise, and its fan base. Though Lions fans might say they'd trade decades of irrelevance for a shot at failing on a much bigger stage, failure is still failure.
In the NFL, 31 teams ultimately fail, every year.
That's the cruel reality of pro football, the thing that sets it apart from a college game that gives 34 universities a happy ending because they won a bowl game, regardless of how relevant (or irrelevant) the bowl game might have been.
In the NFL, only one team has a happy ending. Only one team goes out on top.
If Favre wants to truly go out on top, he needs to win a Super Bowl.
And if he decides to come back for another season, the Vikings will be among the favorites to do so. Though they'll need to hustle to keep some free agents around, both restricted (Ray Edwards) and unrestricted (Chester Taylor), the nucleus of the roster remains in place.
So Favre has three choices. First, he can come back for one more year, and he can try his damnedest to go out on top. Second, he can retire, and he can accept the fact that he isn't going out on top. Third, he can fool himself into thinking that he's going out on top, even if he isn't.
But we won't aid or abet his delusion. And we hope no one else in the media will do it, either.
To do so would be to undermine the accomplishments of John Elway and Jerome Bettis, men who truly went out on top.