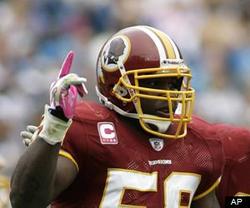 On the same day he was named a finalist for the Walter Payton NFL Man of the Year Award, the Susan Lucci of the NFL finally has had gotten his due.
Redskins linebacker London Fletcher has been named to the NFC Pro Bowl team.
Sure, he'll get there only because the game is being played a week before the Super Bowl, and because Saints linebacker Jonathan Vilma has gotten a pass given his team's qualification for the slightly more significant game.
Fletcher celebrated the news on his Twitter page. "12 years and 1 overtime later, FINALLY Pro Bowl bound," Fletcher said, via Jason Reid of the Washington Post.
Hey, at least there's finally someone on the team who actually wants to be there.