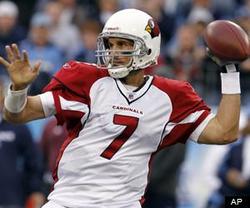 Should Kurt Warner announce his retirement Friday, and all indications are that he will, the Matt Leinart era will officially begin in Arizona.
Entering his fifth season, Leinart shouldn't expect to see major competition added to the Cardinals roster. Writing for the team's website, Darren Urban says the Cardinals won't be in the market for names like Michael Vick or Donovan McNabb.
Instead, the team will likely add a veteran that is told he'll be on the depth chart behind Leinart. Adding another young quarterback to the roster also seems overdue for Ken Whisenhunt, who inherited Leinart from Dennis Green.
Leinart's salary jumps from $2.485 million in 2010 to $7.36 million in 2011, which means he has exactly one season to earn his teammate's confidence and prove he can carry a franchise.