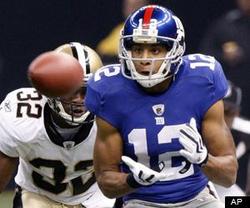 While our server's dust was settling, I had a chance to speak with Giants wide receiver Steve Smith Monday at the media center.
He was there to speak about winning the Visio Top Value Performer award, given to the player who produces the most bang for his buck.  I mentioned that it's an award you don't want to win twice, kind of like Comeback Player of the Year.
"Ah yeah, I definitely don't want to win it again.  Hopefully there will be some contract talks after this one," Smith said.
As first reported by the Newark Star-Ledger Sunday night, Smith is changing agents in an effort to get a new deal.
"I was with DeBartolo Sports, and they were great, I'm switching over to . . . I'm not going to say yet who," Smith said, before laughing and catching himself from saying too much.  He politely made it clear later he didn't want to talk about why; it was a tough decision and he appreciated the efforts of his previous agent.
Mike Garafolo reports that Smith will change to CAA's Tom Condon and Ben Dogra, who represent a lot of Giants, including Eli Manning.  They are known for keeping negotiations quiet, so don't expect a splashy ordeal in the New York papers.
A deal makes a lot of sense for both sides.
Smith exploded in 2009 to finish second in the NFL in receptions and eighth in yards.  He's set to make $550,000 in the final year of his rookie contract and is Eli Manning's most trusted target.  Like everything else in the NFL right now, the lack of a collective bargaining agreement will complicate his quest for more dollars.
 
We'll have more non contract-related matters from Smith later on PFT — including video where I look more like a 12-year-old than usual.