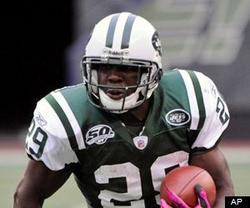 Judging by his spirits, Leon Washington is mentally over the gruesome-looking injury that ended his season. And he's making progress on his return to the field.
PFT spoke to Washington Thursday and he was in a great mood, fired up over Florida State's recruiting class. He showed no signs of a brace for his ankle and didn't walk with a limp.
He'll start "impact drills" in a month and is hopeful to return to football activities at some point before training camp. When he returns, he plans to still be a return man and active in the backfield.
"I just like having the ball in my hands, no matter how it gets there," Washington said.
He gave credit to the Jets trainers for getting him ahead of schedule as he recovers. Washington is also not sweating his uncertain contract situation. His agent has been in touch with the Jets of late.
"They want me to be a Jet, and I want to be a Jet. . . . No matter what, I think I'll be a Jet for a long time."