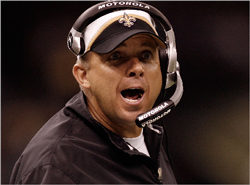 In the moments before Tracy Porter's game-winning interception, the Saints cornerback knew a "sticks" route was coming. 
Other Saints thought the Colts may go deep.
NFL Films footage shows the huddle before the big play.  Defensive end Will Smith tells Malcom Jenkins to watch for the slant-and-go, feeling like they are being set up for the big play.  Sean Payton is seen yelling at Porter, "Tracy, watch the shot!"  (We took this to mean Porter should be wary of a big play.)
But Porter stayed flat-footed while defending Wayne, not remotely fearful of the deep pass. Then he jumped all over the ball.
NFL.com has all the wired sound from the game broken up by quarter, and it's fantastic stuff.  (It's also on NFL Network's Sound FX.) 
Here are some other highlights.
* Payton to Mike Bell after he slips near the goal line. "What kind of shoes you got on?!"  (Bell shows him.)   "That f–king figures.  Put on the cleats!"
* Scott Fujita walked up to Peyton Manning before the Colts' final drive of the first half: "Why don't you throw us a few?" 
* Smith on Dallas Clark:  "I'm jamming him and he's still catching the f–king ball."
* Payton to linebacker coach Joe Vitt:  "Dallas Clark has about 149 yards now.  Let's not let their best player beat us.  That's a sin."
* Fujita to Lance Moore after his two-point conversion play was overturned:  "Good job buddy.  You went from an asshole to hero in about 30 seconds."