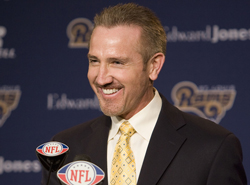 Rams minority owner Stan Kroenke, who has the right to match Shahid Khan's offer to buy the remaining 60 percent of the team, isn't the only guy who can throw a wrench in the team's immediate future.
Bernie Miklasz of the St. Louis Post-Dispatch reports that coach Steve Spagnuolo has the ability to walk away upon the sale of the team.
Though it's apparently not the same cash-and-carry deal held by Dolphins V.P. of football operations Bill Parcells, who had the ability not only to leave but also to be paid the balance of his contract, it gives Spagnuolo the rare ability to exit his employment, with no strings attached.
So if anyone wants a coach who went 1-15 last year, the line starts, well, pretty much anywhere.