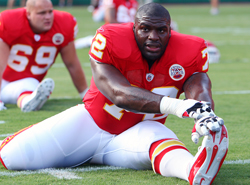 Lions defensive coordinator Gunther Cunningham has a novel idea to improve his team's defense. He wants former Chiefs.
"[Kansas City] keeps wanting to dump their players," Cunningham told the Detroit Free-Press. "I would like to be there to catch a lot of them, because I know a couple of those guys."
Those guys didn't play very well for Cunningham in his final season with Kansas City, but he believes they are quality players that don't fit in Kansas City's new 3-4 scheme.
The biggest fish in the Chiefs pond that could be available is 2008 top-five pick Glenn Dorsey. Speculation has already started in Detroit that the Lions could make a play for Dorsey via trade.
Cunningham's words certainly won't slow down those rumors.