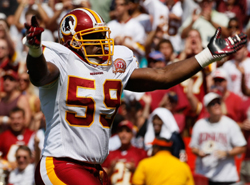 Our next PFT Heroes award is named for former Chiefs linebacker Derrick Thomas, who was added to the Pro Football Hall
of Fame to launch the 2009 season.  (Carl Peterson should be wrapping up his speech any minute now.)
No linebacker had a greater impact during the decade that Thomas
spent harassing quarterbacks.  His exploits included an uncanny seven
sacks in one game, causing Dave Krieg to still pee a little whenever he sees the number 58.
After 11 NFL seasons,
Thomas suffered serious injuries in a January 23, 2000 automobile
accident.  Paralyzed from the waist down, a blood clot ended his life
not long thereafter.
He helped the Chiefs get to the playoffs ten times, and he was named
the league's Man of the Year in 1993.  In eight straight seasons, he
participated in the Pro Bowl.
Though Redskins linebacker London Fletcher didn't win the 2009 NFL Walter Payton Man of the Year Award, Fletcher was one of three finalists — and he also made it to the Pro Bowl for the first time in his career.  Unlike the various players who immediately started limping upon learning that they'd been named to the team, Fletcher embraced the honor. 
And so for his contributions to a team that struggled to a 4-12 finish in 2009, we've decided to give the Derrick Thomas Award to London Fletcher, who is still going strong more than a decade after anchoring the defense of the Super Bowl XXXIV-winning Rams.
We realize that other linebackers had a greater impact on the field this past year than Fletcher, but if more of the guys on the Washington roster had his heart and skill, maybe our Super Bowl prediction wouldn't have gone so horribly wrong.