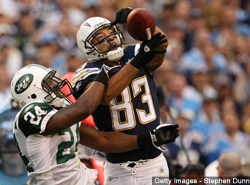 With the launch of the new league year less than 20 days away, it's time for teams to start making their intentions known regarding players who currently are under contract with other teams.
Of course, it's a blatant violation of the rules, but it occurs so commonly that the league has pondered the possibility of creating a period before the launch of free agency during which the presently illegal communications would be legallized.
Until then, teams will continue to tamper, and the league will continue generally to look the other way in order to avoid creating the impression that 30 or more teams routinely cheat in this regard.
The first official example for 2010 comes from Miami.  As noted in the Sunday morning one-liners, Barry Jackson of the Herald writes that the Dolphins have absorbed Cupid's arrow in the ass regarding Chargers receiver Vincent Jackson.
Jackson cites an unnamed "official" to whom the Dolphins privately declared their feelings for the fourth-year fifth-year receiver, who'll be a restricted free agent.
But the NFL Anti-Tampering Policy expressly prohibits not only public but also private statements of interest in a player under contract with another team.  The problem, of course, is proving the violation.  Jackson won't be disclosing his source absent the involvement of a waterboard (we'd blab for a Drake's coffee cake), and even if Jackson spilled the beans the source would simply say that Jackson misunderstood him.
That's why nothing ever happens when teams tamper — and that's why some teams that previously didn't tamper have decided that their failure to do so was creating a distinct strategic disadvantage.