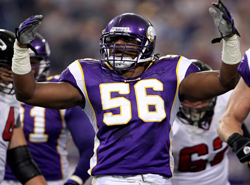 Linebacker E.J. Henderson doesn't have much company as he shows up to the Vikings facility nearly every day this February. While most players are getting away from the game, Henderson is back to work to rehab the gruesome fractured left femur that ended his last season.
"I tell one thing about E.J. Henderson, there is not a guy in the world
who wants to play more and come back from that injury," said Vikings personnel man Rick
Spielman, who noted that Henderson was the first person in the building Friday.
The goal is for Henderson to start working out again in May, so the team can see where he is in his recovery. After that injury, seeing Henderson on the field again will be a welcome sight.