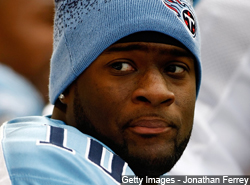 Two years ago, Titans quarterback Vince Young raised plenty of eyebrows when he ditched offseason workouts so he could work on his Texas degree. 
He ended up taking a class in all-male shirtless Tequila parties.
Now, after Young's career has bottomed out and resurrected, he was back in Texas.  And while this video from TMZ.com reveals that his shirt was on, it's not a stretch to wonder whether a bottle or two of Tequila was involved.
Look, the guy is allowed to be young and have fun.  But anyone who assumes that Young is ready to be a consistently excellent quarterback at the NFL level really hasn't been paying close attention — or talking to anyone who got a chance to observe Young's overall football intellect at the Pro Bowl.