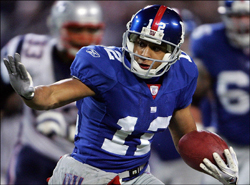 As the original Steve Smith begins to fade from NFL prominence, the other Steve Smith continues to make a name for himself as the top receiver with the New York Giants.
According to Liz Mullen of SportsBusiness Journal, Smith recently has hired agenting powerhouse CAA to handle his contractual situation.
Smith, a second-round pick in 2007, is signed through 2010, at a base salary this year of $550,000. The move could be regarded as a sign that Smith will be asking for the team to lock him up for the long term, given the absence as of March 5 of a salary cap.
In 2009, Smith caught 107 passes for 1,220 yards and seven touchdowns. He played in every game, starting 15.