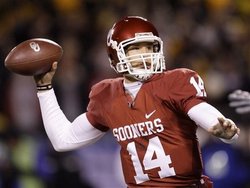 Quarterback Sam Bradford, a Heisman winner who ranked higher than first overall pick Matt Stafford on some draft boards a year ago, hopes to make the climb again despite a bad shoulder. 
But scouts won't get a chance to eyeball Bradford's progress next week in Indianapolis where they will convene for the annual Underwear Olympics.
Former NFL scout Daniel Jeremiah reports that agents Tom Condon and Ben Dogra of CAA have informed all 32 teams by e-mail that Bradford won't work out for scouts until March 25.  On that day, Bradford will conduct his own Pro Day session, 16 days after the official Oklahoma version of the Underwear Olympics.
The e-mail reportedly came with a letter from Dr. James Andrews, who explained that Bradford is ahead of schedule in his recovery from shoulder surgery, that the distance on Bradford's throws has been increasing, and that Bradford is on schedule for the March 25 workout.
Bradford nevertheless will be in Indy for medical exams, interviews, and Wonderlic testing.
Dr. Andrews' explanation is curious to say the least, given that Bradford himself told Dan Patrick two weeks ago that Bradford's had recently thrown 30 balls 50 yards. 
Even if Bradford were 100 percent (and it sounds like he might be close to it), it's unlikely that he would have thrown any footballs at the Underwear Olympics.  Few top-tier quarterbacks ever choose to throw there, preferring instead to show what they can do in familiar territory, with college teammates running the routes and catching the passes.
This year, neither of the top two quarterbacks will be doing anything at Indy other than talking, submitting to poking and prodding, and scribbling dots with a No. 2 pencil onto the answer page of a 50-question exam.  Notre Dame's Jimmy Clausen is recovering from toe surgery and won't work out.
It opens the door for Colt McCoy of Texas, who has said he'll try to throw.  If he has a strong workout (like Pat White a year ago) McCoy could push himself into the top ten, especially since five of the top nine teams (Rams, Redskins, Browns, Seahawks, and Bills) need a long-term answer at the position.