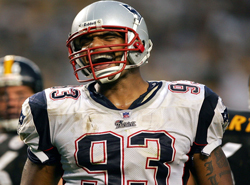 When the Oakland Raiders gave up a 2011 first-round pick for Patriots defensive Richard Seymour, they surely didn't intend to have him on the team for only a year.
And he'll apparently be around longer than a year.  Unless someone wants to give up two first-round draft picks for his services.
David White of the San Francisco Chronicle reported on Wednesday that the Raiders will use the franchise tag on Seymour if they don't sign him to a long-term deal.
Adam Schefter of ESPN has confirmed the report.
Use of the franchise tag would require the Raiders to offer Seymour a one-year guaranteed contract worth $12.398 million.