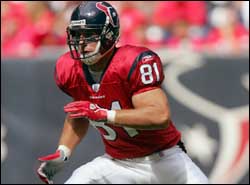 Texans tight end Owen Daniels was a restricted free agent in 2009.  And he wasn't happy about it.
He eventually signed his restricted free agency tender in June, just before the date on which the amount of the tender could have been dramatically reduced by the Texans.  As a result, he was under contract at that point, and he was obligated to report for training camp and the preseason.
This year, Daniels will be a restricted free agent again, due to the uncapped year and the shift of the minimum years of service for unrestricted free agency from four years to six.  He recently told Tim Ryan and Pat Kirwan of Sirius NFL Radio that, even though a torn ACL will be healed by May, Daniels might wait even longer this year before signing.
"I might not even do training camp," Daniels said.
It'll be easier for Daniels to avoid camp in 2010, since the tender can be reduced after the middle of June only to a maximum of 110 percent of the player's salary from the prior year.  In 2008, Daniels earned the minimum salary for a third-year player.  In 2009, the Texans paid him $2.792 million under the highest RFA tender.
Thus, the Texans could reduce the 2010 tender only from $3.168 million to $3.0712 million.
With the highest tender, any team that wants to sign Daniels will have to be ready to give up a first-round pick and a third-round pick.