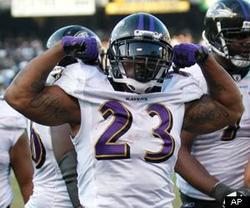 Take another quality name off the list of possible free agents.
NFL Network's Jason La Canfora reports that the Ravens plan to retain backup running back Willis McGahee, despite his $3.6 million salary.
McGahee makes far more than Baltimore's Pro Bowl starter Ray Rice, but their combined salaries are low for a top-five rushing attack. McGahee scored 14 times and averaged five yards per carry as a backup, and sounded unconcerned about staying in his role last month.
The running back market is very thin, a fact that could make it tougher for the Chargers to sign Darren Sproles to a long-term deal before testing the waters.