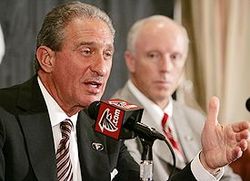 With so much happening during Super Bowl week, several intriguing developments were overlooked.
One league source told us that Friday, February 5 comments from Falcons owner Arthur Blank created a buzz during the ownership meeting conducted on Saturday, February 6.
Per the source, the televised comments from Blank focused on the expected spending habits of owners during the uncapped year.  Blank, in the opinion of the source and others with whom the source communicated, danced dangerously close to the collusion line by suggesting that teams will behave responsible with their financial expenditures when the cap disappears.
Though the comments in question were televised (we've yet to track them down), Blank also was interviewed on Friday, February 5 by Orlando Alzugaray of WQAM in Miami, prompting this tweet from NFLPA assistant executive director for external affairs George Attalah:   "I expect the owners will be financially responsible next year."  
We've obtained the audio, and Blank's comments weren't quite that general.  He spoke of responsibility in relation to the fan base, not the bank account, and we heard nothing that made us think that Blank had danced too close to the line.
"I think that ownership in my opinion will be responsible to their fan base to make they have competitive teams on the field," Blank said.  "I think there will be appropriate amount of financial resources made available to make sure that happens.  I don't see, although you never know with other owners, anybody going wild. . . .
"I think it'll be pretty much business is usual. . . .  Fans will expect each owner to make sure that they're being financially responsible, because on the other hand if they overinvest and go nuts if you will, sooner or later that's reflected in the prices fans have to pay for tickets. . . .  I think that owners in my opinion will be very thoughtful about their investments they way they usually are."
Blank was careful to confine his comments to his own opinions, and he allowed for the possibility that some owners will go "wild" or "nuts" when it comes to spending on free agents.
It makes us think that the source was referring to some other interview of Blank from Friday, February 5, because whatever Blank said became a hot topic the next day at the Ritz-Carlton in Fort Lauderdale.