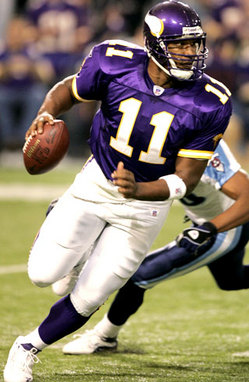 We recently pointed out that Daunte Culpepper is one of the top unrestricted free agent quarterbacks of the 2010 class.
Our position arises from the fact that Culpepper was a high-end quarterback before having his knee blown out by a low hit at the end of a run in 2005, and that he hasn't exactly been with elite franchises in the four seasons since returning.
Some of you have tried to undermine our position regarding Culpepper's 110.9 passer rating in 2004 by pointing out that he had Randy Moss at his disposal, and that Culpepper has never done anything without Moss on the field.
But Moss had a hamstring injury in 2004, which caused him to miss three games after serving as a limping decoy in two of them.
In Moss' first decoy game, against the Titans, Culpepper completed 24 of 30 passes and generated a passer rating of 103.2.
In the first game Moss missed entirely, Culpepper cranked out a 121.3 passer rating in a 31-28 Monday night loss at Indianapolis.
Six days later at Lambeau Field, Culpepper completed 27 of 44 passes for 363 yards and four scores in a 34-31 loss, good for a passer rating of 117.9.
So Culpepper had Moss at his disposal for only 11/16ths of one of the best single quarterback seasons in NFL history, and we can't help but think that in the right set of circumstances the 33-year-old could engineer a compelling rebirth of his career, like his boyhood idol Randall Cunningham did in the late 1990s.
Then again, some of you would likely claim that Cunningham's second act resulted directly from the presence of Randy Moss.