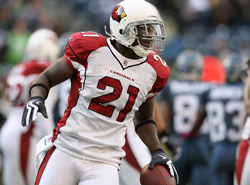 As he enters the final year of his rookie deal, Cardinals safety Antrel Rolle is due to earn a base salary of $8.11 million.
Then there's a $4 million roster bonus due next week.
Based on 2009 wages, the Cardinals already employ the highest-paid safety in the NFL — Adrian Wilson, who made $7.039 million last season.
So Rolle, who has said he's not taking a pay cut and who has coughed up $2.2 million in back taxes to the IRS, could be hitting the open market in the uncapped year.  Darren Urban of the team's official web site predicts that Rolle will be released.
Rolle, who said last month that he'd like to play for the Dolphins, was the eighth overall pick in the 2005 draft, three selections before DeMarcus Ware.
Meanwhile, Rolle is the second top-ten pick of the Cardinals during the three-year Denny Green era to unlock high-end escalators that eventually forced the team into a corner.  Two years ago, 2004 first-rounder Larry Fitzgerald parlayed a huge cap number into a four-year, $40 million deal.  This time around, a good-but-not-great career from Rolle has put him in line for $12 million, an amount that's unheard of for a safety.
So Rolle undoubtedly won't be back in Arizona absent a major pay cut, and he'll ultimately make a lot less than $12.11 million this year, and likely in any future year of his career.