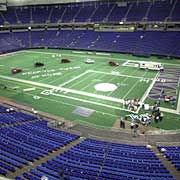 Thanks to the Weekly Replay published by SportsBusiness Daily, we noticed on a better-late-than-never basis the latest development in the ongoing debate regarding the construction of a new stadium for the Vikings, in a place other than Los Angeles.
Earlier this month, Minnesota Governor Tim Pawlenty said there would be no money in the new budget for a new stadium, an ominous sign for a franchise two seasons away from becoming a geographical free agent.
Recently, Pawlenty told Sid Hartman of the Minneapolis Star Tribune that the Vikings are a "valued asset" in Minnesota.
"[W]e want to keep them here, and they're not going to stay in the Metrodome," Pawlenty said.  "So, this issue is going to come to a head, and there are some examples that I and others have put out that would at least move the debate forward, but it's very hard to do that when the economy is so bad and so many other aspects of government are being reduced."
He has mentioned the possibility of a lottery game that would partially fund the venue, giving the E*Trade baby ample opportunity to show off his "shocked face." 
Regardless of how it happens, Pawlenty believes it's not a matter of "if" but "when."
"Well, I do think it's going to happen at some point," he said.  "I
don't know if it's going to happen while I'm still in office [his term expires in 2011], because
there's so many economic challenges right now that I think the
Legislature would be very hesitant to say we're going to introduce the
Vikings into that mix when they've got their hands full on the basic
things like health and human service funding and nursing home issues
and things like that."
Still, time is running out.  With only 20 preseason and regular-season games remaining before the lease expires, the Vikings would surely like to get a plan in place.  Barring significant progress in the next 12-to-24 months, the Lakers might not be the only professional franchise in Southern California that defected from Minnesota.