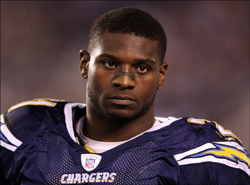 In a move that was fully expected but still feels odd to type, the Chargers released LaDainian Tomlinson Monday after nine seasons with the team.
The timing of the release was likely out of deference to Tomlinson's career. He can get a head start on most unrestricted free agents and talk to interested teams right away.
"It has been a privilege to work with him and witness his entire career," owner Dean Spanos said in a statement. "I'm proud of him and grateful to him for the way he has carried himself both on and off the field.
"He's a future Hall of Famer," G.M. A.J. Smith said. "My only regret is that he leaves without a Super Bowl ring."
The memory of the last two disappointing seasons remain fresh in the mind, but Tomlinson's first seven years in San Diego stack up with the greatest running backs in NFL history.
Where Tomlinson lands next may depend on his willingness to take a secondary role. He's no longer capable of carrying an offense, but said he was unhappy with his workload in San Diego and wouldn't consider a pay cut.
For reference, Tomlinson saw 243 touches in 2009 and was set to make $5 million for the Chargers.
We'd be shocked if he got anywhere near either number in 2010.