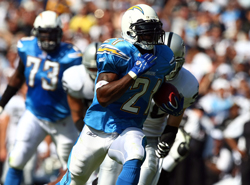 With his long-expected release finally coming on Monday, Chargers running back LaDainian Tomlinson is now focused on his next move.
"It was a longtime coming, but I knew it was coming," Tomlinson told Jim Trotter of SI.com. "Now that it's official I can kind of look to the next step
in my career and playing football for someone else."
Though he named no teams, Tomlinson said that his primary goal "is to try to win a championship."
"That's my No. 1 goal," he said. "That's why I still work hard and train like I do, because I still believe there's a chance of winning a championship. I can think of a few teams off the top of my head, but that's what my agent is for."
The only factor Tomlinson articulated is the presence of a "proven quarterback."
Trotter points to the Eagles and Patriots as teams that could use help at the position. After a playoff loss in January 2007, Tomlinson teed off on the Pats and coach Bill Belichick, but Tomlinson has since explained that he and Belichick mended fences. Or bridges. Or whatever the hell the cliche is.
Meanwhile, various remaining employees of the Chargers franchise have talked about the development, with partial transcripts of the remarks available at SportsRadioInterviews.com.
Said quarterback Philip Rivers on XX 1090 in San Diego, "It's always tough any time you lose a teammate, whether that be a trade, free agency or in this case after an unbelievable nine-year career here with the Chargers. L.T., what he's meant to this organization and this community, is really unmatched. What he did on the field speaks for itself, and the No. 21 jerseys and the kids and people that he's affected, unbelievable. I'm sure those No. 21 jerseys will continue to be rampant in that stadium for many, many years."
Former teammate Lorenzo Neal predicts that Tomlinson will have a major impact wearing No. 21 in a new city.
"Think about a cat," Neal told XX 1090. "They're always running, they don't like it. But if you get a cat and you push him in that corner, and that cat's got a fight. Oh my, be careful. Wrap up your hands because you're going to come out with some scars and some cuts. I think LaDainian now, he's pushed in a corner.
"Everyone's looking at him. LaDainian, is he done? This is a man that lives for that type of moment. And I think that you will see LaDanian come back from in the corner from the beginning, from the opening day, and I think that this guy — given the right opportunity, going to the right office that suits him and believes in his passion — I think LaDanain Tomlinson will finish in the top five to six in rushing this next year, if that right opportunity presents itself, and barring injuries."
The big question, in our view, is whether Tomlinson will properly match his financial expectations with his opportunities. Too many aging players want to be paid for what they have done, not for what they can still do. And the praise that comes with a great career often makes the player too proud to be paid like a middle-of-the-pack performer.
Even if he now is.