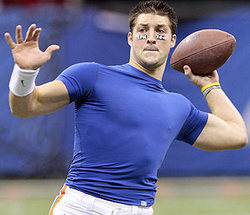 As Florida coach Urban Meyer takes his much-hyped leave of absence, we hope that Meyer spends some of his down time reflecting on his biggest failure.
Tim Tebow.
After the Gators won two national championships in three seasons with Tebow at quarterback, Meyer owed a huge debt to Tebow. And Meyer should have spent all of 2009 attempting to repay it.
He didn't.
So Tebow left Gainseville with a release slower than Byron Leftwich in a vat of molasses, and overall football mechanics far uglier than Vince Young's Uncle Rico sidearm release.
It's therefore no surprise that Tebow is in the process of changing his throwing motion, according to Adam Schefter of ESPN. What's surprising is that few are calling out Meyer for not doing anything and everything he could in 2009 to help make Tebow into a more marketable NFL quarterback.
Since Tebow isn't injured, he's using the belated effort to become a pro-style quarterback as an excuse not to throw at the Scouting Combine. The obvious goal for Tebow is to avoid doing more damage to his draft stock — the obvious response in light of his Senior Bowl-week performance is whether it's possible for any further damage to be done.
Though Tebow seems to be trying hard not to point a finger at Meyer for the quarterback's current predicament, this quote tells us everything we need to know: "I've never been asked to shorten or quicken my release
and not have a loop in it."
As the usually-sunny Joe Theismann said three weeks ago, the situation shows that Meyer and his staff have "no clue" as to the process for preparing a quarterback for the NFL. And while some of the Florida fans in the crowd might respond by saying that Urban Meyer's only duty is to prepare players to play college football, look for Nick Saban and every other coach in the SEC to take a DVD of Tebow's throwing motion into the homes of every high-end quarterback recruit for as long as Meyer remains the Florida coach. They'll all be making the case to the kid and his family that, if he hopes to play in the NFL, he'd better not go to Gainseville.
If you don't think that'll eventually impact the performance of Meyer's team, then you simply don't understand how college football actually works.
Meanwhile, Tebow will be left to his own devices to get an education into how pro football actually works. During his four years with Meyer, Tebow apparently learned absolutely nothing.