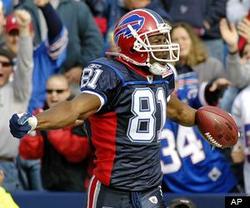 As Bills receiver Terrell Owens edges toward his third trip to the open market in four years, he seems to have found a way to bury the hatchet with one of the quarterbacks whom he inevitably disrespected.
According to the New York Post, T.O. recently told Michael Kay of YES Network's CenterStage that Owens and Eagles quarterback Donovan McNabb have made amends, to an extent.
"I can honestly say I appreciate those years and Donovan and I are friends and, actually we were just hanging out last night as a matter of fact," Owens said.  "So it was one of those things where — again — it started off well, it didn't end well.  Sometimes, I wish it could have ended on a positive note."
Wow.
Owens apparently has forgotten that it ended on a bad note because he wanted the Eagles to rip up his contract less than a year after he had signed it and, when they refused, he decided to create as many problems as possible in the hopes that the Eagles would eventually dump him.
Along the way, T.O. mixed it up with McNabb, prompting the quarterback eventually to describe Owens' antics as "black-on-black crime."
So while it's good that they're getting along, Owens needs to take responsibility for the fact that McNabb was an innocent victim of the reign of terror aimed at getting T.O. out of Philly.