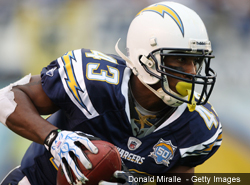 It's starting to look like the Chargers will have two players to replace in their backfield.
Kevin Acee of the San Diego Union-Tribune reports that the Chargers won't retain Darren Sproles on a one-year contract.  (Sproles was due $7.3 million as a restricted free agent, 110% of what he made last year as the team's franchise player.) 
San Diego would like to re-sign Sproles to a long-term deal, but they only see him as a complementary part.  At least one team should see him as much more.  Expect him to hit the open market.
This news isn't particularly good for LaDainian Tomlinson or Brian Westbrook.  Both veterans look like third-down backs and may have to wait in line behind Sproles to get a deal done.
Because of Sproles' age and ascendant ability, we'd guess that he will make more than Westbrook and Tomlinson combined in 2010.  Fortunes change brutally fast at the running back position.