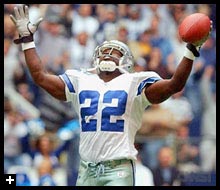 My kid has been bugging me for more than two weeks about the identity of the teams who'll play in the Hall of Fame game.
Finally, he can move onto another question that he'll ask me over and over again.
The league has announced that the Bengals will face the Cowboys on August 8 in Canton. The game will be televised nationally on NBC.
For the Cowboys, it's their first appearance in Canton since 1999, and it coincides with the enshrinement of running back Emmitt Smith. The Bengals last played in the Hall of Fame game in 1988. [Editor's note: In a prior version of this article, we incorrectly said that the Cowboys last played in the Hall of Fame game in 1988. I misread the release from the NFL. I apologize for the error, to everyone except the guy who called me a "f–king idiot" in the comments because of the kind of mistakes that we sometimes make when trying to get one story done quickly so that we can move on to the next one. We ain't painting Picassos here, folks. We're just trying to keep you informed and, at times, mildly entertained.]
Also entering the Pro Football Hall of Fame on August 7 will be receiver Jerry Rice, offensive lineman Russ Grimm, linebacker Rickey Jackson, defensive back Dick LeBeau, running back Floyd Little, and defensive tackle John Randle.
The Bengals-Cowboys game marks a return to the interconference format that had been used in most years. Last season, the league scheduled the Titans and the Bills in honor of the AFL's 50th season.
And with Cincinnati receiver Chad Ochocinco lobbying the team to sign free-agent receiver Terrell Owens, T.O. could be making his second straight visit to Canton — and he'd be getting his first crack at the team that cut him last year.