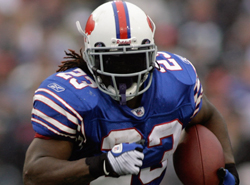 Bills coach Chan Gailey drew a laugh Thursday when he said he would "sidestep" questions about the Bills quarterback situation.
He basically did the same when I asked him about possibly trading Marshawn Lynch.  But I got the sense Gailey isn't overly eager to trade one of his more talented players for 50 cents on the dollar.
"Marshawn is an excellent football player," Gailey said. "The guy's
extremely talented, can catch the ball, can run it. He can run with
power. He can get around the edge. He's a very good football player. I
hope we're able to take him and use him."
Lynch's off-field history in Buffalo probably matters less with a new regime in town.  Fresh start and all that.  Gailey and new G.M. Buddy Nix likely recognize that having two quality running backs isn't a bad thing.
"I'm not so sure that today it doesn't take two quality guys to get you
through a season," Gailey said.  "We're finding that more and more and more in our
league. The players are getting so much bigger and stronger and faster
that the collisions are bigger every year. It takes you a couple guys to
be able to get you through a year."
Fred Jackson and Lynch are two quality guys.  Jackson and Justise Hairston are not.