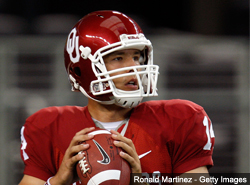 In a Wednesday spot with ESPN Radio in St. Louis, Adam Schefter offered up a surprisingly firm prediction regarding the identity of the first pick in the 2010 draft.
Oklahoma quarterback Sam Bradford.
Said Schefter:  "I would like to record something here, on February 24th.  Two months from the draft.  And tell you who the number one pick is gonna be right now.  On the basis of what I've talked to people around the league [about], everything I've heard.  And at some point it's gonna shift to this guy, and I don't know whether it'll be now or late March.  It'll probably be after his Pro Day, when he goes through his Pro Day and goes through his workout.  Then all of a sudden — it'll be about a month from now — we'll start hearing, 'Wow.  Would and could the Rams take with the number one overall pick Sam Bradford?' 
"And I believe ultimately, when all is said and done, that the Rams' number one pick on April 22nd, two months from now, will be Oklahoma quarterback Sam Bradford.  I'm willing to take all bets on that one right now."
Schefter later said he hasn't spoken to the Rams about it, but that based on everything else he's heard he believes "there's no way" the Rams won't take Sam Bradford.
Schefter also threw a politely-crafted dagger at ESPN draftniks Mel Kiper and Todd McShay, without accusing them of wearing sausage casing and/or being a Holden Caufield fantasy.  "I notice that Sam Bradford is not in their top five," Schefter said of Kiper and McShay.  "I can promise you that's wrong.  I can promise you that's wrong."
Schefter ties his prediction to Bradford showing up at his Pro Day and looking healthy.  Though some thought his shoulder injury might scare off teams at the top of the draft, we think that Drew Brees' Super Bowl win four years after his shoulder supposedly was wrecked likely will make a team more inclined to take a risk.
We're not sure it means he'll be the first pick.
Still, mark it down.  Schefter says Bradford will be the guy.  It vaguely reminds us of the time that another ESPN analyst said that the Texans will take Reggie Bush with the first overall pick "no matter what anyone says."