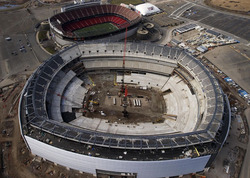 On the same February day that the New York area is having a thick layer of white shag carpeting installed by Mother Nature and Company comes a development that could lead to the first Super Bowl played under snow globe conditions.
Per SportsBusiness Daily, the Arizona Host Committee unanimously voted on Thursday not to bid for Super Bowl XLVIII in 2014, due to "the poor economic climate and threat of losing hundreds of safety and law enforcement personnel in budget cuts."
As a result, the only remaining bidders are Tampa, Miami, and New York.  SI.com's Peter King pointed out in response that the "clubhouse leader" is the new Giants Stadium.  You know, the open-air facility that currently is sporting a shiny winter veneer.
Frankly, we've got no problem with the possibility.  The folks in New York would surely mobilize every available plow and truck and tank to clear a path to and from the venue where the game will be played, and most of the Super Bowl week events will be within walking distance of the media hotels.  (Dave Goldberg of FanHouse points out that it could be a "mess" with media hotels in New York and team hotels in New Jersey.)
Locations have been selected for the next three NFL title games.  Super Bowl XLV will be played at Cowboys Stadium.  Super Bowl XLVI, if there is one, will be played in Indy.  And Super Bowl XLVII will be played in New Orleans, where there likely will be plenty of reminders that the Saints won Super Bowl XLIV.