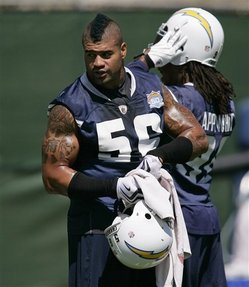 Even though he'll receive the highest possible tender as a restricted free agent, Chargers linebacker Shawne Merriman doesn't seem to be happy with the situation.
Not happy at all.
"Speechless today," he said earlier tonight via Twitter. "Business is business but some things just aren't right."
He's surely talking about the fact that, despite five NFL seasons and an expired contract, he's not eligible to hit the open market, and he's restricted by a provision that would require a team who signs him to give up a first-round pick and a third-round pick to the Chargers.
But Merriman shouldn't be upset with anyone but the NFL Players Association, which agreed to a provision that extends by two years the minimum years necessary to become an unrestricted free agent in an uncapped year. And if he wants to see that change, he needs to press the union to get a deal done by Friday that moves the minimum from six back to four.
Merriman also shouldn't be speechless. He knew or should have known this day was coming since May 2008, when the league exercised its right to terminate the CBA two years earlier, making 2010 an uncapped year — and preventing Merriman from becoming a UFA.