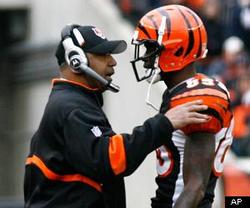 Of all the football players who have strutted their stuff on ABC's Dancing with the Stars, only one — Jason Taylor — appeared on the show while his NFL career was still going.
There now will be two, reportedly.
According to TMZ, Bengals receiver Chad Ochocinco will join the cast for the season that launches on March 22.
Though Chad's OCNN has not broken the news on his Twitter page, he posted earlier today that he's in Los Angeles. He has joked that he will be crashing the Oscars on Sunday night.
As best we can tell given our fairly rudimentary Google skills, the official lineup will be unveiled tonight on ABC. Reality star Kate Gosselin is also expected to be one of the contestants.
If he's successful on the dancing competition, Ochocinco could miss much of the team's offseason program. He has skipped most of the team's voluntary drills in each of the past two years.