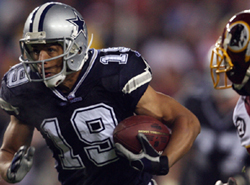 As expected, the Cowboys have extended the highest possible restricted free agency tender to receiver Miles Austin, per Todd Archer of the Dallas Morning News.
The move is aimed at keeping Austin from leaving, by pegging the compensation at a first-round pick and a third-round pick.  Austin will earn $3.168 million, if/when he accepts the tender.
"How many times have [you] seen another team give up a one and a three?" Cowboys exec Stephen Jones recently said, overlooking the fact that the Cowboys gave up a one, a three, and more for receiver Roy Williams.
The Cowboys apparently are confident that no team will give up less for a much better player.  But if a team decides that it must have Austin — and if that team is willing to give up a first-round pick and a third-round pick to get him — it'll be interesting to see whether the Hucthinson-Burleson poison pill makes its first appearance in four years.
Archer reports that the Cowboys also have applied second-round tenders to receiver Sam Hurd and center Cory Procter.