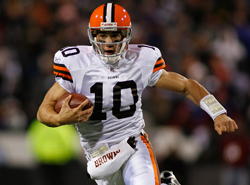 With the Browns looking to acquire a quarterback via trade, it's fair to wonder if they will be sending any away in the same manner.
The Cleveland Plain-Dealer hints around that Brady Quinn could be available, but NFP's Mike Lombardi is a lot more direct.
"Based on what I heard, no one in the organization feels Quinn is the
answer, long or short term," Lombardi writes.
It's not a shock.  Eric Mangini is still in town, and Quinn has not put together any quality film for Mike Holmgren to watch, no matter how patient he says we should be. 
Holmgren doesn't seem to want a quarterback competition.  So if the team brings in a quarterback, it would hardly surprise to see Quinn competing elsewhere.