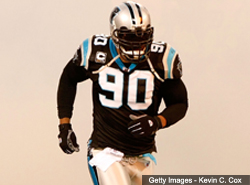 There's a fairly strong theory in league circles that the Redskins won't be pursuing defensive end Julius Peppers but that, if they wanted him, they'd get him.
So that leaves the Bears as the front-runners for his services, right?
Maybe not. In today's PFT Daily, we suggested generally that, when it comes to big spending, don't rule out the Seahawks, where owner Paul Allen's Microsoft money has been married up with Pete Carroll's Trojan charisma.
Sean Jensen of the Chicago Sun-Times reports that the Seahawks could be the "favorite" to land Peppers.
It's not clear whether Jensen is reporting an actual link between the Seahawks and Peppers, or whether he's speculating that the Seahawks could be in play for Peppers.
Either way, we're keeping a fluorescent lime-green eye on the Seahawks.