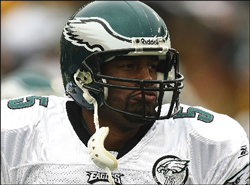 Bryan Burwell of the St. Louis Post-Dispatch recently sent Rams fans into a tizzy by reporting that the Rams have had "intense internal investigations" with the Eagles regarding quarterback Donovan McNabb.
Though Burwell later essentially claimed that his newspaper's offensive line had been outplayed, the talk continues.
One tipster with a limited but viable track record in these parts claims that McNabb could be a Ram as soon as Friday, in exchange for the first pick in the second round of the draft.
But there's an important factor to keep in mind regarding such a deal. Though McNabb's contract does not contain a no-trade clause, McNabb's willingness to happily join a team that has won six total games in three years will be a big factor in any such deal.
Then there's the fact that the Rams wouldn't send the first pick in the second round of the draft for a 30-something-year-old quarterback who is under contract for only one year. The Rams will want to do an extension, and McNabb can kill the deal by simply saying "no f–king way."
That doesn't mean McNabb stays put. But it means that, before he gets traded, his new team will need to have a pretty good idea that they're getting him for more than 16 games.