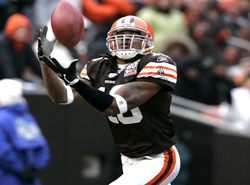 After weeks and months of stress and strain and accusations and frustrations, Browns receiver, running back, quarterback, kickoff returner, punt returner, and all-around warrior Josh Cribbs is finally a man.
A man who has been paid.
A league source tells us that the three remaining years on Cribbs' contract have been replaced with a new deal that includes $7 million in guaranteed money.  (Some of that money isn't guaranteed in the traditional sense, but as a practical matter it will be earned.)
The full value, we're told, of the three years exceeds $18 million, if Cribbs continues to play like he has.  And that's more than Bears overrated returner/underperforming receiver Devin Hester will make over the next three seasons.
The negotiation was a challenge, we're told, because of the 30-percent rule.  Still, both sides worked through the issues and worked out a new deal.
The problem arose because Cribbs signed a long-term deal too early in his career, before he became a star player.  Once he did, he hired a new agent and tried in earnest to get a new contract.
So rejoice, Cleveland.  The best player on your team will be present and happy for the next three years.