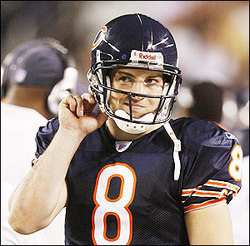 It's fitting, we suppose, that a year after the Broncos welcomed with open arms a failed former Bears quarterback, the former Broncos coach would be interested in another one.
A league source tells us that the Washington Redskins are interested in Rex Grossman.
Grossman, a first-round draft pick in 2003, left the Bears for the Texans in 2009.  He won the backup job behind Matt Schaub, who had a Pro Bowl season. 
The offensive coordinator last year in Houston, Kyle Shanahan, is now the offensive coordinator in Washington.  (Thanks, Rosenthal, for pointing out something I should have realized on my own.  Sleep deprivation and/or age is a bitch.)
We're not quite sure, but we think we just heard a loud chorus of profanity from 240 miles away from our location in North Central West Virginia.
For his career, the boom-or-bust Grossman has a passer rating of 69.5.  He led the Bears to the Super Bowl in 2006, with a passer rating of 73.9.