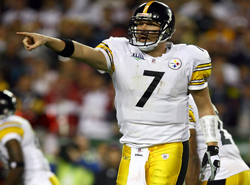 As if this first day of the 2010 league year wasn't sufficiently hectic, one of the more ugly situations from the 2009 league year suddenly has migrated back onto the front burner.
Steelers quarterback Ben Roethlisberger has been accused of sexual assault. Again.
TMZ reports that the alleged incident allegedly occurred (allegedly) early Friday in Milledgeville, Georgia, a town that when you say it sounds a little like "Allegedville."
The alleged victim and witnesses are being interviewed, and police have interviewed Roethlisberger.
Per TMZ, no charges have been filed yet.
Even if he's cleared, the fact that Big Ben would put himself in position to be on the wrong end of these allegations given everything he has experienced in Nevada makes us think that, yes, he really is as dumb as he looks.
And if you don't know what we're talking about regarding Nevada, we're glad that you have emerged from your coma. Please type "Roethlisberger" and "sexual" in the search box and you'll quickly be up to speed.
The difference this time around is that the alleged victim didn't wait a year to make the claim. She didn't even wait a day.