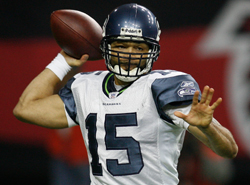 Browns fans hoping for quarterback salvation: Could we interest you in Seneca Wallace?
Mike Holmgren is reportedly looking at Seattle's backup, according to the Cleveland Plain-Dealer.  The Big Show helped developed Wallace, who could be more available and cheaper to acquire than Matt Hasselbeck.
The Browns are seemingly looking for two quarterbacks minimum because Derek Anderson is almost sure not to be back, and Brady Quinn's future is also in doubt.
Pete Carroll has apparently decided Hasselbeck will be his guy in Seattle, and will probably look for a young player to develop behind him.
The Browns have eleven picks in April's draft, including an extra third-round pick, and four picks in the fifth round.