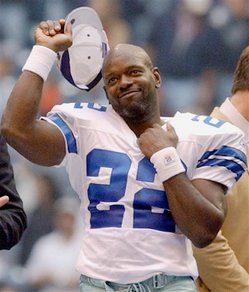 We interrupt our ongoing coverage of Free Agency Frenzy Lite to point out that Cowboys running back Emmitt Smith has taken aim recently at someone he never once faced personally on a football field.
Redskins owner Daniel Snyder.
Said Smith in an interview with SLAM magazine regarding playing against the Redskins: "I loved defeating the Redskins," Emmitt said, via Dan Steinberg of the D.C. Sports Bog. "I loved it, I loved it, I
loved it with a passion. And I loved it more when Daniel Snyder got the
team, for a number of reasons. I did. Because here is a guy who thought
he could build a football team just because he has the money to buy
players. There's more to it than that.
"And he's not a compassionate person, not a compassionate person at
all from what I understand. And that makes me just want to pummel
somebody. You know, you hate to see pride, wearing itself on his
forehead and his chest. And to me, arrogance sticks out like a sore
thumb when you talk about him. And the lack of compassion for others is
a problem. Because it's not that hard to be compassionate; you just
choose to."
Snyder, who when we last heard from him was denying a report that he'd spent $600,000 on a pair of alligator desks and chairs, has taken the high road in response.
"I applaud Emmitt Smith's induction into the NFL Hall of Fame and, from what I understand, he's a heck of a dancer," Snyder said in a team-issued release, deftly using Emmitt's "from what I understand" qualifier. "I think we've only met once briefly at an NFL function in 2000. I will say, however, that I like to think of myself as being a compassionate person, except toward the Dallas Cowboys."
We like Snyder's response, although we would have liked it even more if it had included the phrase "blowed out." As to Emmitt's comments, we're having a hard time understanding his logic. We thought football players were motivated by things other than the perception that the team's owner lacks "compassion."
Regarding his description of an owner wearing arrogance on his "forehead" and his "chest," we've got a feeling that some might find some irony in that observation.
As to the notion of Snyder buying players, we've also got a feeling that if Emmitt had become an unrestricted free agent in 1999 or 2000, he would have been first in line to cram into his pockets whatever money Snyder was handing out.