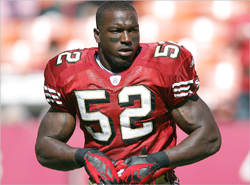 As quarterback David Carr moves closer to signing with the 49ers, a highly-placed league source tells Matt Maiocco of the Santa Rosa Press Democrat, "It's the 49ers' to lose."
Though that explanation seems to overstate, to say the least, the desirability of the first overall pick in the 2002 draft, who has been bouncing around the league the past three years, there's one fairly high-profile member of the team that wants to see Carr bounce somewhere else.
Linebacker Patrick Willis has launched an anti-Carr campaign on his Twitter page, per Maiocco. 
"We have three quarterbacks that are better than [Carr]," Willis says.  "That's a waste of time."
He also says that, if the team is going to get another quarterback, it should "spend money on a difference maker," and Willis specifically points out Mike Vick.
Though Willis has since posted an apology and vowed to "embrace" Carr, his point has been made.  And since Willis rarely complains about anything, his point should resonate with 49ers fans.
We realize that the 49ers are simply trying to find a better backup quarterback, but the first days of free agency should be about, if anything, finding a player who can push the team to the next level.  And if the team doesn't intend to pursue such a player, it shouldn't pursue any until the market softens.
UPDATE:  Reached for comment about Willis' remarks, Carr issued this response.